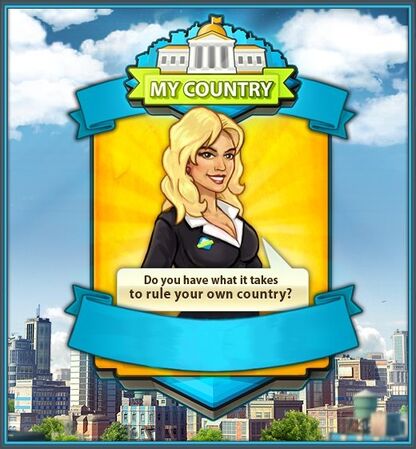 Welcome to the My Country for Android Wiki!
Edit
My Country is a game for serious city builders! Develop your country, establish bus transit and take it to a new level of play. Achieve tons of strategic goals for your country's economy development. Make your country distinct by using hundreds of unique constructions offered. Build up facilities, make agreements, purchase transport for goods transit. Evolve, receive awards, and share your achievements with Facebook friends.
Your goals in the game:
- Complete hundreds of tasks to the benefit of your developing country
- Build residential buildings to increase your country's population
- Open office buildings and upgrade them to employ more citizens and turn greater profits
- Develop industry, sign contracts and buy vehicles to transport the goods you produce
- Manage the ecology and energy use in your city by building power stations and parks
- Change the landscape: cut canals, lakes, plant trees and country roads
- Establish a bus transit network for your residents
- Gather collection items from the residents of your country
- Hire professionals to grow a forest of skyscrapers in your country!
There is so much to know about the in-game businesses, structures, professions and more, so join in and help this wiki expand and gather all knowledge about the game! :)
Don't hesitate to add useful content on new pages and on the already existing pages!
Important!
Edit
We do NOT allow friend requests on this wiki in any way. Go to the game's Facebook page for that. Any friend request on this wiki will be deleted and the author will be blocked from this site.
CMONYALL 14:29, August 18, 2011 (UTC)
External links
Edit
Developer's website: http://www.game-insight.com/android/
Game's Facebook page: http://www.facebook.com/MyCountryAndroid/
Send support email to: mailto:support-mco-an@game-insight.com
Latest activity
Edit